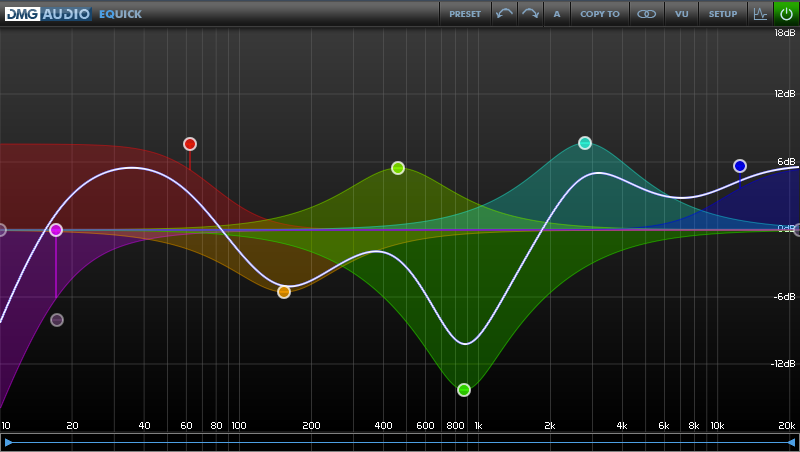 EQ, evolved
EQuick is a streamlined, ultramodern EQ built to help you make your mixes magnificent. Fast, intuitive and unbelievably flexible, we've packed it with digital functionality.
We built its beautiful, clear graph with accessibility and efficiency in mind, and it'll refine your workflow forever; but don't take our word for it - test the claim and download the demo!
Another powerful and well-thought-out mixing tool from DMGAudio, putting a different spin on EQuality's proven sound.

When I'm in the middle of writing a track, I don't want to fool with 35 different controls for every frequency. I want to make an adjustment and move on. EQuick is perfect for my workflow: easy to use, stunning good looks, and it does exactly what it says on the tin.

Chris Randall
Overview
Unbelievably low CPU usage for high instance counts.
Generates super-high-quality prototypes. Clear undistorted top.
Linear phase mode for mastering and special channels
32 bands of EQ, Q 0.1 -> 50, +/-36dB range
Each band can be Peak, HPF, LPF, High Shelf, Low Shelf or Notch
Each bank can process Mid, Side or the full stereo image
Fully parametric filters (high and low-pass), 6/12/18/24/30/36/42/48db/oct
Five different UI sizes.
M/S processing per-band with listen.
Windows VST, VST3 and AAX as 32+64bit, RTAS 32bit.
Mac VST, VST3, AU and AAX as 32+64bit, RTAS 32bit.
Sound
Bells and notches, with a +/-36dB range, and a Q range from 0.1 to 50.
Shelves which let you move the resonance above or below the curve.
Filters at 6/12/18/24/30/36/42/48 db/octave, sweepable resonance.
Vision
Beautiful, clutter-free modern interface.
Big, clear, antialiased graph
Hi-res Spectrum analyser
Range, to scale the EQ response, both +ve and -ve.
Frequency shift, to allow you to retune the response
Large, configurable spectrum-analyser with readout
Control linking to move sets of bands together.
Configurable VU, with variable ballistics
8 banks of A/B
Full preset management system
Undo/redo
Autolisten mode, for quick finding/adjustment of frequencies
Windows System Requirements
Vista / Windows 7 / Windows 8 / Windows 10
32bit or 64bit
ProTools 7 or newer (RTAS and AAX Native)
A host that supports VST or VST3, such as:

Steinberg Cubase
Steinberg Nuendo
Steinberg Wavelab
Sony ACID Pro
Ableton Live
Cockos Reaper
Magix Sequoia
Magix Samplitude
AudioMulch
Mac OS System Requirements
Mac OS 10.7 or newer. For 10.7 and 10.8 use the Intel 32/64 Mac Combined Installer on the Downloads page.
Intel or Apple Silicon Mac
ProTools 7 or newer (RTAS and 64-bit AAX Native, 32-bit AAX is not supported on Mac OS). For RTAS use the Intel 32/64 Mac Combined Installer on the Downloads page.
A host that supports VST, AU or VST3, such as:

Apple Logic (32bit or 64bit)
Apple Garageband
Steinberg Cubase
Steinberg Nuendo
Ableton Live
1.26 (2023-10-30)
Fix incorrect latency on re-opening a project in Studio One.
Fix latency reporting in VST3.
1.25 (2023-04-03)
AAX Apple Silicon support.
1.24 (2022-11-23)
Fix VST3 bundle structure for architecture on Windows.
1.23 (2022-11-07)
Fix no processing in Digital mode.
1.22 (2022-11-03)
Graph node dragging fixes.
Add option to disable filter drags.
Add new option to set parameter for filter mouse wheel edits.
Fix incorrect latency on re-opening a project in Ableton Live.
Improve parameter display text reported to host for discrete parameters.
Fix crash when moving between insert slots in Logic.
Fix UI positioning in Reaper when window size is smaller than plug-in UI size.
Fix duplicated preset data in VST3 preset file.
VST3 can replace VST2 in Cubase/Nuendo 12 if missing or no longer supported.
1.21 (2022-03-28)
Fix pops when adjusting band parameters.
Add option for analyser channels to show M+S signals.
Fix save/recall issue with discrete parameters in VST3 version.
Add Master Bypass as an automatable parameter in AAX version.
Add option to invert mousewheel action on graph.
Remove 32 bit AAX support on Mac.
Improve parameter automation response at start of item if inserted as a Take FX in Reaper.
1.20
2021-06-22
Fix EQgraph not always updating on engaging autolisten.
Fix potential incorrect parameter recall with VST3 in Bitwig.
Fix uninstaller location on Windows.
Fix DPI scaling on Windows in apps that are not per-monitor aware.
1.19
Fix plugin not processing automation during silence when VST3 "suspend in silence" option is enabled in Cubase/Nuendo.
Fix UI sizing on Windows when application is set to override DPI scaling.
Skip EQ coefficient interpolation on initial processing to fix issues in EqualizerAPO.
Fix drag box not being drawn if analyser turned off.
Fix updating of track controls assigned to MIDI CCs in Reaper with VST3 version.
Fix potential crash when instancing VST3 version in Harrison Mixbus.
Update to new style load/save dialogs on Windows and fix initial path.
Wrap mouse when editing text controls if mouse hiding enabled.
Fix incorrect VST2 plugin window size with DPI scaling on Windows if host uses effEditGetRect flag (e.g. Tracktion Waveform and Max/MSP).
Peak readouts are now sample accurate.
Fix mouse hiding not working on Windows after entering a parameter as text.
1.18
Fix potential crash when using different plugin formats in the same project.
1.17
Fix potential OpenGL crash when closing window.
Fix crash when closing window and parameter being automated.
Fix potential crash when EQ graph resizes.
Improved undo of mouse wheel action.
1.16
Improved HiDPI support
Added OpenGL support
Support VST2 getEffectName for some rare hosts
1.15
Fix AU validation in old not-really-supported versions of Logic
Reaper key entry improvements
HiDPI support in Cubase and Studio One on Windows
Improvements with discrete parameters drag/mousewheel
Blurriness in EQuick fixed
Option to disable VST Gestures in EQuick for Ableton Live issues
1.14
Grouped undo when editing parameters for multiple selected bands
Fix for mono VST2.4 version not being found when loading session saved with much older version
Fix autolisten sometimes enabling without holding ctrl
Fix for autolisten disengaging when previewing a sample for offline rendering in Cubase and Nuendo
Mac build now requires 10.7 or later
Improve menu position when opening a menu would cause it to appear offscreen
AAX Mac window focus improved
Fix potential crash when file saving fails
Accept ',' for decimal point when entering value by text
Fix crash when closing UI with text box open
Fix crash with text entry on touchbar MacBook Pro
Prevent Cubase/Nuendo right-click menu from appearing when right-clicking on a clutter bar button that accepts right-clicks
Support for mono->stereo AU
Installer searches for existing VST plugins folder for 64-bit plugins on Windows if run for first time
Correctly sign Windows installers with Codesigning cert
Improve text and layout for Windows installers
Improve install descriptions and logo for Mac installers
1.13
Improve reset to default values
Fix mousewheel bug controlling stereo width
Fix memory leak with presets
Improve text editing on 64bit mac
Improve VST3 automation
Improve mousewheel handling on windows
Improve keyboard handling
Improve automation resolution in Logic X
Support AAX EQ Curve display
Updated pagetables for Avid S6
1.12
Fix 32bit Carbon UIs on OSX
1.11
Update AU validation.
Allow all AUs to use Cocoa UIs on 32bit mac.
Improve speed of session recall for AUs.
Fix mousewheel on 2nd screens.
1.10
Fix bug with AAX automation whereby discrete parameters could jump.
Fix bug with mousewheel on windows to left of main screen on windows.
Improve determinism of automation when rendering.
Improve handling of OS load dialog for presets.
Improvements for latency reporting both realtime and offline.
1.09
Fix bug with A/B in AAX.
Fix AAX level meters.
1.08
Tidying and optimisation.
Reduce saved preset sizes further.
Fix crashes with undo/redo.
Fixes for Sonar.
Fix automation of discrete parameters for PT11 AAX.
Fix samplerate issues in Wavelab for VST3.
Remove AAX GR meter.
1.07
Fix bug affecting reloading of settings
Fix issues with Windows 32bit AAX and ProTools 10
1.06
Fix "node stuck at top of graph" bug.
Fix black-screen bug.
Fix obscure race-condition bug.
Fix obscure crash bug related to Analyser usage.
Versioning display for binaries.
Significant reduction in load/save times.
All-round optimisation and tidying.
Ceased support for 10.4 and PPC. 10.5/Intel now required.
Improvements for RTAS versions.
Fix samplerate related issues for AU.
Improvements for AAX Automation.
Improvements for redraw strategy on OSX.
Improvements for UIs for AU+Cocoa.
Fix mousewheel handling on Windows.
Fix UI resizing in Live 9 Mac.
Fix crash when closing UI for Cocoa AUs
Move Windows presets to My Documents to improve Win7/8 usage.
Added warning box if file save/load fails.
1.05
Fix fiddly textboxes in Logic
Improve RTAS resizing
AAX improvements
Fix "stuck band" bug.
AAX2.0 and PT11 compatibility.
1.04
Fix mousewheel handling bug
Fix bug that could cause pops when automated
Added preference: Band-Q follows Zoom
Added preference: Configure right-click as Invert/Bypass/None
Tidy up automation handling
Improve mousewheel and autolisten
Added preference: Sticky selection, to retain selected bands, rather than allow dragging
Added preference: Control+Mousewheel behaviour (adjust gain/freq)
Added preference: Larger EQ band dots
AAX-AudioSuite Enabled
Fix samplerate handling for VST3 in StudioOne
Reduce CPU usage when automated in Reaper
AAX enable click-thru - prevents first click from being absorbed when UI is opened
AAX Bypass mechanism reworked to match RTAS version
1.03
AAX version included
Tweaks for stability
VST3 Automation improvements
Mac builds and Installers optimised and signed
Massive optimise for reload of presets.
Fix click-thru menubar bug
Fix reset-to-previous after resetting to default bug.
Recalibrate VU meter
Make graph textboxes usable to engage automation in ProTools.
1.02
Fixed memory leak
Fixed potential crash in UI
Massive improvements to CPU usage with UI redraw/animation
Fix focus stealing bug on windows
Fix UI crash on mac
Invalid text entry returns controls to default values.
Fix "stuck-on" clip light in ProTools HD
Fix Win+Ctrl click for Windows ProTools
Fix AudioSuite redraw for Windows ProTools
Presets are compressed to dramatically reduce session sizes (1/50th)
Fix tooltips and hover in ProTools
Fix UI resizing in ProTools
ProTools pagetable
New pref: Band colour by number
New pref: Mousewheel zoom disable
1.01
Fixed textbox display, ProTools Mac RTAS.
Fix crash when switching between DMGAudio plugins in ProTools using header menu.
Fixed obscure potential crash bug.
VST3 versions support presets.
Fixed bug whereby host redraw would slow down when UI was open.
Improved AudioSuite metering and processing.
Enable Windows ProTools automation menu.
Fixed issues relating to window resizing in ProTools.
Added A/B Automation type preference.
Always report zero latency when expired/hard bypassed.
Fixed bug where saving filter with 48db/oct (entered numerically) reloads as 42db/oct.
Fixed bug whereby analyser could hide high-frequency spikes.
Exclude filters/notches when computing maximum gain while dragging.
Ctrl+Alt+Click to delete all selected bands.
Fix Band Type control in VST3.
Added mousewheel-zoom to graph.
Speed up mousewheel adjustment of filter slopes.
Fixed Solo in Stereo Mode menu.
What EQ do you design after you've designed the ultimate EQ?
EQuality was a runaway success. For its users, it's made EQing and mixing a faster, easier and more enjoyable process.
So, for the next EQ design, we listened to our users, and those for whom something else was needed. EQuick is the result of that process.
We wanted to play with the idea of the interface; we wondered whether EQ could be made more intuitive, more direct, and how one would go about making an EQ that made the process even faster. EQuality speeds up your workflow because it sounds great, and you don't waste any time compensating for defects in what it does. For EQuick we wanted to delve deeper into the design of the interface. Perfection is when there's nothing more to take away, so we started by stripping down the interface to its most essential element - the graph. EQuick has nothing else. We had to work in all the controls (like Range and Shift) that made EQuality so special and we found that we could do that with the graph. Also, we took account of the fact that different people have different size screens - so you can pick your size for EQuick. But we couldn't do that at the expense of control, so we built the tooltip system that provides you will all the data you need, when you need it.
We're proud of EQuick. It's clean, clear, uncluttered and fun! We really hope you'll enjoy our modern vision of EQ for the future.