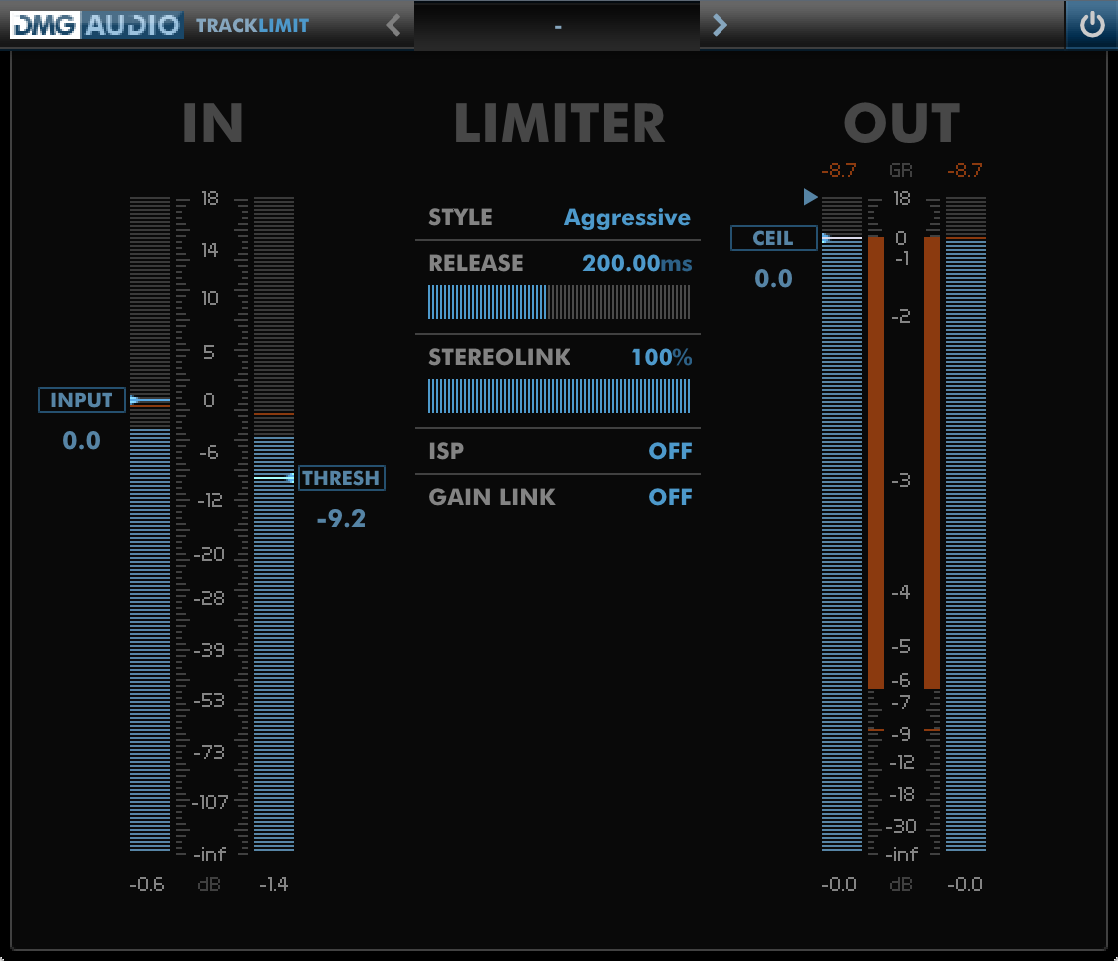 Simply Louder
TrackLimit is a fully featured wideband limiter with intelligent dual-stage handling of transients and dynamics.
Just click and drag the threshold to hear your sound come alive.
Simplicity and great sound: download the demo.
Features
State-of-the-art peak limiter with low latency and low CPU usage.
Dual-stage dynamic handling separates transients and dynamics.
Beautiful, minimalist user interface.
Inter-sample (True-) peak suppression.
Quick and easy limiting that sounds great, for tracks, busses and premasters.
Windows VST, VST3 and AAX as 32+64bit, RTAS 32bit
Mac VST, VST3, AU and AAX as 32+64bit, RTAS 32bit
Sound
Dual-stage limiting to separate dynamics and transients.
Style menu provides quick access to useful limiting characters.
Variable stereo linkage.
Full gain staging on input, limiter threshold and output ceiling.
Vision
Simple, streamlined interface.
Mac Retina support.
Gain-lock to protect gain staging whilst auditioning presets.
Zoomable PPM and GR meters.
Windows System Requirements
Vista / Windows 7 / Windows 8 / Windows 10
32bit or 64bit
ProTools 7 or newer. (RTAS and AAX Native)
A host that supports VST or VST3, such as:

Steinberg Cubase
Steinberg Nuendo
Steinberg Wavelab
Sony ACID Pro
Ableton Live
Cockos Reaper
Magix Sequoia
Magix Samplitude
AudioMulch
Mac OS System Requirements
All DMGAudio plugins are compatible with M1/ARM macs (native). Grab the ARM Mac Combined Installer from the Downloads page!
Mac OS 10.7 or newer, including Catalina (10.15), Big Sur (11) and Monterey (12)
Intel or Apple Silicon Mac
ProTools 7 or newer (RTAS and 64-bit AAX Native, 32-bit AAX is not supported on Mac OS).
A host that supports VST, AU or VST3, such as:

Apple Logic (32bit or 64bit)
Apple Garageband
Steinberg Cubase
Steinberg Nuendo
Ableton Live
Specifically not supported (might work, but I can't test/support these platforms): Windows 95/98/XP, OS X 10.0,10.1,10.2,10.3,10.4,10.5,10.6
1.08 -> 1.09
2022-03-28
Remove 32 bit AAX support on Mac.
Improve parameter automation response at start of item if inserted as a Take FX in Reaper.
1.07 -> 1.08
2021-06-22
Fix potential incorrect parameter recall with VST3 in Bitwig.
Fix uninstaller location on Windows.
Fix DPI scaling on Windows in apps that are not per-monitor aware.
1.06 -> 1.07
Fix plugin not processing automation during silence when VST3 "suspend in silence" option is enabled in Cubase/Nuendo.
Fix UI sizing on Windows when application is set to override DPI scaling.
Fix click on switching bypass state.
Fix updating of track controls assigned to MIDI CCs in Reaper with VST3 version.
Fix potential crash when instancing VST3 version in Harrison Mixbus.
Update to new style load/save dialogs on Windows and fix initial path.
Fix background colour of meters.
Fix incorrect VST2 plugin window size with DPI scaling on Windows if host uses effEditGetRect flag (e.g. Tracktion Waveform and Max/MSP).
Peak readouts are now sample accurate.
Fix text entry box position when zoomed in Logic.
1.05 -> 1.06
Fix potential crash when using different plugin formats in the same project.
1.04 -> 1.05
Freely resizable UI.
Fix potential crash when double-clicking to enter value as text.
Fix potential crash when closing window whilst resuming playback.
GR meter zoom state stored with preset/session.
Fix MIDI learn in VST3 version.
1.03 -> 1.04
Improved HiDPI support
Support VST2 getEffectName for some rare hosts
1.02 -> 1.03
Fix AU validation in old not-really-supported versions of Logic
Reaper key entry improvements
HiDPI support in Cubase and Studio One on Windows
Improvements with discrete parameters drag/mousewheel
1.01 -> 1.02
Mac build now requires 10.7 or later
Improve menu position when opening a menu would cause it to appear offscreen
AAX Mac window focus improved
Fix potential crash when file saving fails
Fix crash when closing UI with text box open
Fix crash with text entry on touchbar MacBook Pro
Fix potential crash when closing UI
Support for mono->stereo AU
Installer searches for existing VST plugins folder for 64-bit plugins on Windows if run for first time
Correctly sign Windows installers with Codesigning cert
Improve text and layout for Windows installers
Improve install descriptions and logo for Mac installers
1.00 -> 1.01
OpenGL improvements
Reduce graphics overheads
Improve text editing on 64bit mac
Fix bug with rare crash when MIDI learning
Improve VST3 automation
Add check for AU mono case.
Improve calliper sliders.
Improve preset handling
Improve Zoomed GR scaling
Improve mousewheel handling on windows
Accept ',' as well as '.' for numeric entry
Improve preset extension handling on windows
Improve keyboard handling
Support VST3 GR metering in Studio One
Improve automation resolution in Logic X
Fix VST3 double-precision sidechaining in Wavelab 9
New improved ISP algorithm
Optimisations
TrackLimit
Our design goal was invisible limiting that could cover all bases, with low latency and low CPU.
You can use it to transparently snip a few dB of peak of a channel that's triggering a bus compressor when it oughtn't, or you can use it to render out an awesome-sounding premaster.
We reworked the Limitless engine into a wideband format, and then went to work reducing CPU and latency; the end result is great limiting that's simple, quick, and won't tax your CPU.