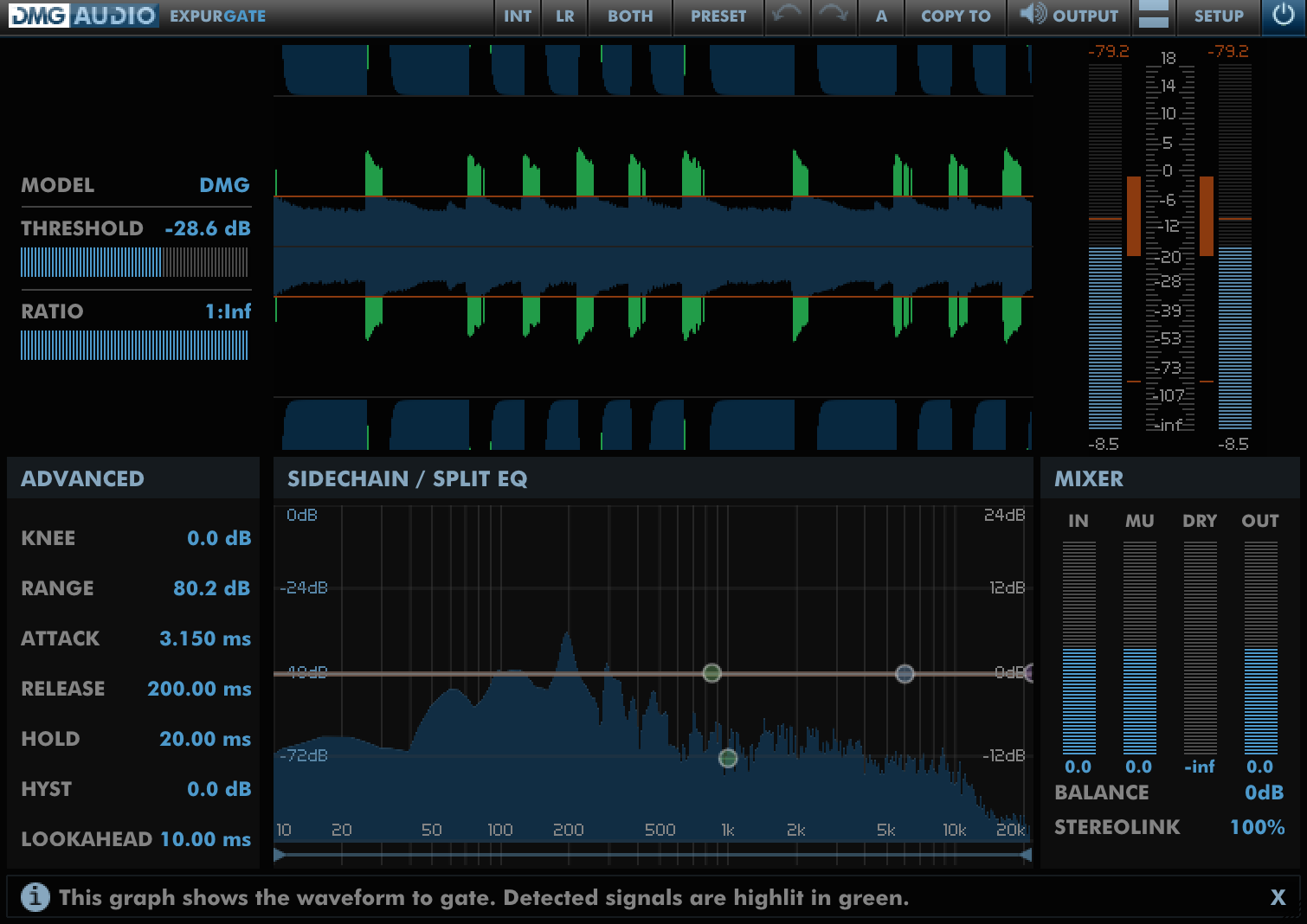 A New Level of Precision
Expurgate is the most advanced noise-detecting, circuit modelled, MIDI sample accurate, zero-latency, ultra-fast, lookahead, linear-phase sub-band gate.
If that's too much to consider, set the threshold and Expurgate your noise!
Click here to download the demo.
After a month of use, we're still discovering new applications for it, and it's clear that it takes the crown as not only the most powerful gate on the market, but also the quickest and most effective one for basic gating. Buy it. 5/5

Using it every day in my Pro Tools mix sessions. It is awesome.

Barry Rudolph

Review in Music Connection
Overview
State of the art gating and expansion.
Noise detector for automatic gating.
Quick, simple, ergonomic interface.
Circuit models of classic gates.
Configurable from zero-latency, ultra-low CPU to oversampled ultra-high resolution.
Ultra-low attack times when the safety is disabled.
External sidechain for triggered gating.
Global Bypass for all instances in a session.
Sample-accurate MIDI triggering as gate or ducker.
Three-band sidechain EQ, and massively configurable Split EQ.
Separated mode, allowing fine mixing control.
Per-channel or ganged control.
M/S and L/R processing
Large, intuitive time-plot.
Windows VST, VST3 and AAX as 32+64bit, RTAS 32bit
Mac VST, VST3, AU and AAX as 32+64bit, RTAS 32bit
Sound
Linear Phase crossover (Split) EQ
Zero-latency minimum phase mode, with Linkwitz-Riley crossovers.
Variable lookahead to avoid losing transients.
Oversampling mode to eliminate intermodulation distortions.
Full mixer section.
Ducking and upwards compression.
Threshold, Ratio, Soft-knee, Gain-Reduction Depth and Hysteresis.
Variable Stereo linkage.
Complete set of Listen options for monitoring, including signal difference (output-input).
Automatic detection of noise in signals.
Vision
Simple three-control interface.
Advanced section for precision control.
Spectrum analyser for tuning sidechain EQ.
Time-plot to highlight signal detection.
Freely-resizable UI.
Mac Retina support.
8 A/B banks.
Intelligent Undo/Redo.
Ergonomic channel linkage system.
Autolisten for configuring filters.
Windows System Requirements
Vista / Windows 7 / Windows 8 / Windows 10
32bit or 64bit
ProTools 7 or newer (RTAS and AAX Native)
A host that supports VST or VST3, such as:

Steinberg Cubase
Steinberg Nuendo
Steinberg Wavelab
Sony ACID Pro
Ableton Live
Cockos Reaper
Magix Sequoia
Magix Samplitude
AudioMulch
Mac OS System Requirements
Mac OS 10.7 or newer. For 10.7 and 10.8 use the Intel 32/64 Mac Combined Installer on the Downloads page.
Intel or Apple Silicon Mac
ProTools 7 or newer (RTAS and 64-bit AAX Native, 32-bit AAX is not supported on Mac OS). For RTAS use the Intel 32/64 Mac Combined Installer on the Downloads page.
A host that supports VST, AU or VST3, such as:

Apple Logic (32bit or 64bit)
Apple Garageband
Steinberg Cubase
Steinberg Nuendo
Ableton Live
1.15 (2023-10-30)
Add option to turn off frequency analyser.
Fix incorrect latency on re-opening a project in Studio One.
Fix latency reporting in VST3.
1.14 (2023-04-03)
AAX Apple Silicon support.
1.13 (2022-11-23)
Fix VST3 bundle structure for architecture on Windows.
1.12 (2022-11-03)
Shift-Alt-click EQ graph background to reset analyser.
Fix incorrect latency on re-opening a project in Ableton Live.
Improve parameter display text reported to host for discrete parameters.
Fix crash when moving between insert slots in Logic.
Fix UI positioning in Reaper when window size is smaller than plug-in UI size.
Fix duplicated preset data in VST3 preset file.
VST3 can replace VST2 in Cubase/Nuendo 12 if missing or no longer supported.
1.11 (2022-03-28)
Remove 32 bit AAX support on Mac.
Improve parameter automation response at start of item if inserted as a Take FX in Reaper.
1.10 (2021-06-22)
Fix setting Hold time when channels unlinked.
Fix text entry of inverse ratios.
Fix potential incorrect parameter recall with VST3 in Bitwig.
Fix uninstaller location on Windows.
Fix DPI scaling on Windows in apps that are not per-monitor aware.
1.09
Improved updating of split EQ IRs.
Fix plugin not processing automation during silence when VST3 "suspend in silence" option is enabled in Cubase/Nuendo.
Fix UI sizing on Windows when application is set to override DPI scaling.
Fix updating of track controls assigned to MIDI CCs in Reaper with VST3 version.
Fix potential crash when instancing VST3 version in Harrison Mixbus.
Update to new style load/save dialogs on Windows and fix initial path.
Wrap mouse when editing controls if mouse hiding enabled.
Fix UI zoom resetting on loading preset.
Fix incorrect VST2 plugin window size with DPI scaling on Windows if host uses effEditGetRect flag (e.g. Tracktion Waveform and Max/MSP).
Remove option to disable OpenGL on OSX and default to always enabled.
Fix rendering of faders and VU meter if scaled to something other than 100% or 200% on Windows.
Peak readouts are now sample accurate.
Fix mouse hiding not working on Windows after entering a parameter as text.
1.08
Fix potential crash when using different plugin formats in the same project.
Fix VST2 crash in Wavelab
1.07
Fix potential crash when double-clicking to enter value as text.
Fix parameter MIDI learned state not being indicated after closing and reopening window.
Improved undo of mouse wheel action.
Fix MIDI learn in VST3 version.
Fix crash when undoing preset load after closing and reopening UI.
1.06
Improved HiDPI support
Support VST2 getEffectName for some rare hosts
1.05
Fix AU validation in old not-really-supported versions of Logic
Reaper key entry improvements
HiDPI support in Cubase and Studio One on Windows
Improvements with discrete parameters drag/mousewheel
Fix disappearing meters
1.04
Fix incorrect ID for VST plugin
MIDI learn via right-click on parameter
Fix crash when setup window open in more than one instance
Undo/redo incorporates loading of presets and banks
Correctly reinstate prev/next buttons status on opening window or loading a session
Mac build now requires 10.7 or later
Improve menu position when opening a menu would cause it to appear offscreen
AAX Mac window focus improved
Fix potential crash when file saving fails
Accept ',' for decimal point when entering value by text
Fix potential crash when closing UI
Fix crash when closing UI with text box open
Fix crash with text entry on touchbar MacBook Pro
Prevent Cubase/Nuendo right-click menu from appearing when right-clicking on a clutter bar button that accepts right-clicks
Support for mono->stereo AU
Installer searches for existing VST plugins folder for 64-bit plugins on Windows if run for first time
Correctly sign Windows installers with Codesigning cert
Improve text and layout for Windows installers
Improve install descriptions and logo for Mac installers
1.03
Fix for recall of A/B settings
OpenGL improvements
Reduce graphics overheads
Improve text editing on 64bit mac
Improve VST3 automation
Improve mousewheel handling on windows
Improve keyboard handling
Support VST3 GR metering in Studio One
Improve automation resolution in Logic X
Fix memory leak with preset loading
Fix rare crash bug with MIDI control
1.02
Fix 32bit Carbon UIs on OSX
Improve UI styling
1.01
Update AU validation.
Allow all AUs to use Cocoa UIs on 32bit mac.
Improve speed of session recall for AUs.
Fix mousewheel on 2nd screens.
Fix Noise Detector in PT.
Use OpenGL on more platforms.
Update OpenGL implementation.
Fix bug that froze graph on preset change.
Allow disabling of OpenGL via pref - requires session reload.
Fix bug that caused pointer to become hidden.
Improve UI resize handling.
Expurgate is a fully-featured gate/expander, with all the customary DMGAudio trimmings.
Let's be honest - gates are not the most exciting of processors, but they are hugely useful. So I've tried to make Expurgate as exciting as possible by including a selection of favourite gate designs. We've tried to make it as quick to use as possible by streamlining the interface, and including a flexible sidechain EQ with spectrum analyser. I've made it as gentle on the CPU as possible whilst still sounding fantastic and also including extra options for more demanding applications to invoke more processing power.
The inclusion of a signal/noise detector can make some tasks, like breath gating, extremely quick to get good results with. Adding sub-band processing means you can use it for tonal and dynamic shaping. The sample-accurate MIDI handling is pretty neat for creative uses, as is the distortion characteristic of using extremely low attack and release times when the safety is off.
We're fairly sure this is the most sophisticated and flexible gate around. As we strive for in our designs, it allows you to get the job done quickly and well. And as always, if you want to go deeper, the options are all there.